Get Professional Certified Advice for any flooring dispute.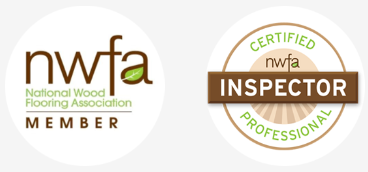 Package 1: 30-Minute Virtual Inspection
Our 30-minute virtual inspection service offers a convenient and cost-effective solution for reviewing problems and complaints related to your wood flooring.
Through this service, we can promptly assess the situation and determine the validity of the complaint. With our professional expertise, we provide you with a verbal opinion that helps you understand the issue at hand. This option is suitable for simple cases that require a preliminary evaluation.

Package 2: Onsite NWFA Inspection & Letter
If you are facing a conflict or dispute regarding your wood flooring and wish to resolve it before resorting to legal claims, our onsite inspection and letter package is the ideal choice.
For a comprehensive fee of $900 plus tax, our experts will visit your location to conduct an on-site inspection and basic testing. Following the assessment, we will provide you with a letter (ranging from 300 to 500 words) outlining our professional opinion. This package serves as a valuable tool to facilitate resolution and avoid the need for legal proceedings.
Option to upgrade: We understand that some cases may require a more in-depth report. In such situations, we offer an upgrade option to Package #3 below, that allows you to obtain the level of detail and complexity necessary to address your specific needs. Simply pay the difference, and our team will provide you with an NWFA report.
Please Note: Travel costs of $.75/ Km will apply to all inspections outside the Greater Toronto Area.

Package 3: Onsite NWFA Inspection and Report
For cases that may require court preparation, our onsite inspection and report package is the most suitable option. Priced at $1500 plus tax, this comprehensive service includes an onsite inspection, thorough testing, and a detailed report.
Our experts will meticulously examine your wood flooring, perform necessary tests, and compile a comprehensive report outlining the findings. This package provides you with a solid foundation for legal proceedings and ensures that you are well-prepared to present your case in court.
Please Note: Travel costs of $.75/ Km will apply to all inspections outside the Greater Toronto Area.
What Actual Customers Have To say

"I have had the opportunity to work with Steve on a few occasions now. His detail oriented approach and expertise to all matters related to flooring have been exceptional. I would definitely recommend his services to any organization that is seeking a greater understanding on issues or matters within this field."
Saikat Guha, CIP
Property Technical Claims Manager
CAA Insurance

"Steve is incredibly knowledgeable about wood flooring. He provides detailed inspections, and is able to articulate his findings on the inspection in a clear, concise, and objective manner. He was a great resource in assisting our client by preparing an expert report on wood flooring issues that they were experiencing. He is the consummate professional!"
Neal Altman
Associate
Glaholt Bowles LLP

"Steve was very responsive and professional from our first engagement. I felt Steve's rate reasonable for the specialized services I needed in order to prepare for a small claims court to receive compensation to put me back to where I was prior to the damage incurred. I would highly recommend Steve for wooden floor consulting services for his insights and understanding of manufacturing of wood floors."
Ellie Braham
Transformational IT/Business Leader
IBM

"Steve is someone we go to for good, honest advice and recommendations on products and issues. His professionalism and willingness to go the extra mile for his clients is hard to find."
Jack Nhan
Senior Manager, Property Management & Customer Care
Great Gulf Homes